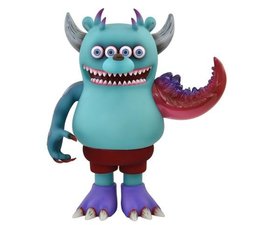 8.5" RE-RET (ZOMBIE) by T9G x Instinctoy
Teaming up with T9G, Instinctoy are proud to present their new character, "RE-RET". The first colour way is the LEOPARD and is limited to 100 pieces worldwide with two secret colours hidden amongst them. The secret colours have different coloured a...
Artist: T9G
Size: 8.5" - 21 cm
Produced: 100 pieces
Released: 2017
Label: Instinctoy
Medium: Vinyl

Article number: INS17_155
Availability:
Available to order
Reviews
No reviews found...
This is the Zombie edition of the 8.5" RE-RET, by T9G x Instinctoy

Teaming up with T9G, Instinctoy are proud to present their new character, "RE-RET". The second colour way is the ZOMBIE and is limited to 100 pieces worldwide with two secret colours hidden amongst them. The secret colours have different coloured arms.

The 8.5" RE-RET (ZOMBIE) by T9G x Instinctoy is a limited edition of 100 pieces worldwide
Artist: T9G
Size: 8.5" - 21 cm
Produced: 100 pieces
Released: 2017
Label: Instinctoy
Medium: Vinyl