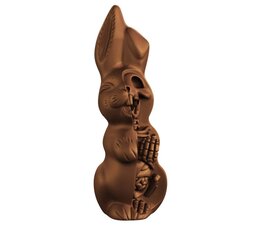 9" Anatomical Easter Bunny (Chocolate) by Jason Freeny
In light of the Easter celebrations ahead, Jason Freeny presents the Anatomical Chocolate Easter Bunny! Crafted to mimic the scrumptious appearance of smooth milk chocolate, the Anatomical Chocolate Easter bunny is made of vinyl and stands 9" tall! This w
Artist: Jason Freeny
Size: 9" - 22 cm
Produced: Made to Order
Released: 2017
Label: Mighty Jaxx
Medium: Resin

Article number: MIG17_185
Availability:
Available to order
Reviews
No reviews found...
This is the Chocolate version of the Anatomical Easter Bunny figure, designed by Jason Freeny

In light of the Easter celebrations ahead, Jason Freeny presents the Anatomical Chocolate Easter Bunny! Crafted to mimic the scrumptious appearance of smooth milk chocolate, the Anatomical Chocolate Easter bunny is made of vinyl and stands 9" tall! This was available for 24 hours only at Mighty Jaxx, we scored a carton for the shop !
The 9" Anatomical Easter Bunny (Chocolate) by Jason Freeny is limited edition that was made to order.
Artist: Jason Freeny
Size: 9" - 22 cm
Produced: Made to Order
Released: 2017
Label: Mighty Jaxx
Medium: Resin