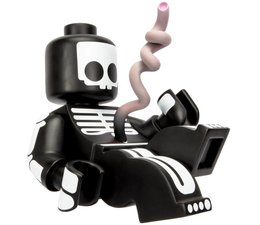 [Pre-order] Brick Baby (Maxilla) by Jason Freeny
Under Jason Freeny and Mighty Jaxx's nurture, Lil' Brick Baby has grown steadily over the months. This little bundle of joy is the fourth addition to the popular Brick Baby series. Our synthetic love child is now dressed in black with skeleton prints with
Artist: Jason Freeny
Size: 8.5" x 6" (with base: 8.5" x 11.5")
Produced: 200 pieces
Released: 2017
Label: Mighty Jaxx
Medium: Vinyl

Article number: MIG17_188
Availability:
Available to order
Reviews
No reviews found...
The Brick Baby (Maxilla) by Jason Freeny is a pre-order and is estimated to arrive in December 2017. Please keep in mind when ordering this figure the rest of your order will be held back until the order is complete!

This is the Maxilla version of the Brick Baby, designed by Jason Freeny

Under Jason Freeny and Mighty Jaxx's nurture, Lil' Brick Baby has grown steadily over the months. This little bundle of joy is the fourth addition to the popular Brick Baby series. Our synthetic love child is now dressed in black with skeleton prints with a protruding umbilical cord but grown-up Brick Baby Maxilla has come to be more conscious of his appearance and threw on some costume for the upcoming Halloween holidays!
The Brick Baby (Maxilla) by Jason Freeny is limited to 200 pcs worldwide
Artist: Jason Freeny
Size: 8.5" x 6" (with base: 8.5" x 11.5")
Produced: 200 pieces
Released: 2017
Label: Mighty Jaxx
Medium: Vinyl