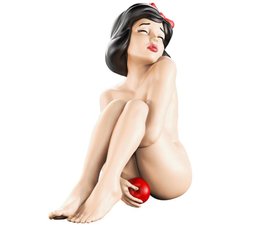 [Pre-Order] Fairest of them All (Original) by Djohan
If you're looking for prince charming and happy endings, you might want to pick another fairytale. Popularised by his provocative take on fairytale princesses, Djohan Hanapi brings us a delightfully sensual tale about a sultry black-haired maiden on a pur
Artist: Djohan
Size: 8" - 20 cm
Produced: 200 pieces
Released: 2017
Label: Mighty Jaxx
Medium: Vinyl

Article number: MIG17_184
Availability:
Not in Stock
Reviews
No reviews found...
The Fairest of them All (Original) by Djohan is a pre-order and is estimated to arrive in 4th  Quarter 2018. Please keep in mind when ordering this figure the rest of your order will be held back until the order is complete!

This is the Original version of the Fairest of them All, designed by Djohan

If you're looking for prince charming and happy endings, you might want to pick another fairytale. Popularised by his provocative take on fairytale princesses, Djohan Hanapi brings us a delightfully sensual tale about a sultry black-haired maiden on a pursuit of gratifying pleasure and titillating self-discovery. Leaving her nagging prince, animal friends and annoying little dwarfs behind, The Fairest of Them All can't wait to savour her newfound freedom!
The Fairest of them All (Original) by Djohan is a limited to 200 Pieces
Artist: Djohan
Size: 8" - 20 cm
Produced: 200 pieces
Released: 2017
Label: Mighty Jaxx
Medium: Vinyl