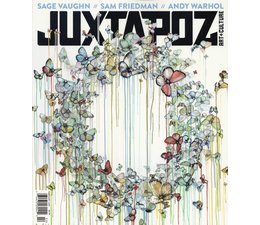 Juxtapoz #169 (February 2015) Sage Vaughn
Juxtapoz #169 has stories on Sage Vaughn, Vizie, Sam Friedman, Maria Kreyn, Converse x Andy Warhol, Jaybo Monk, Peter Shire, Cleon Peterson and Pretty in Plastic.
Pages: 124
Produced: Limited Edition
Dimensions: 9" X 10.5"
Released: 2015
Label: Juxtapoz

Article number: JUX_15_056A
Availability:
Available to order
Reviews
No reviews found...
This is Juxtapoz magazine issue #169 (February 2015) with cover artist Sage Vaughn.


To officially kick off the new year, Juxtapoz are proud to announce the February 2015 issue with cover artist Sage Vaughn. The Los Angeles-based Vaughn has long been a friend of the magazine, and with his upcoming exhibition at Judith Charles in NYC coming up this Spring, it was time to sit down and talk to artist about the new transformations in his work. That's right, we are taking a walk into the Garden.

February 2015 also features:
- The building blocks of Vizie
- The psychedelic world of Sam Friedman
- The men behind Printed Matter's Art Book Fairs
- The philosophical muses of Maria Kreyn
- The story behind the Converse x Andy Warhol collection
- The timely art of Jaybo Monk
- The ever-changing ceramic and sculpture work of Peter Shire
- The steps to building an amazing sculpture with Cleon Peterson and Pretty in Plastic
- ... and of course... our full Basel Week wrap-u
Pages: 124
Produced: Limited Edition
Dimensions: 9" X 10.5"
Released: 2015
Label: Juxtapoz