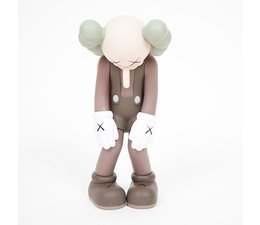 11" Small Lie (Brown) by KAWS x Medicom Toys
The Small Lie by KAWS x Medicom Toys is packed in a plastic blister and sealed in a plastic bag. The Small Lie figure stand 11"tall (28 cm) and is made by Medicom Toys in Japan.
Artist: KAWS
Size: 11" - 28 cm
Produced: Limited edition
Released: 2018
Label: Medicom Toys
Medium: Vinyl

Article number: MED19_056A
Availability:
Available to order
Reviews
No reviews found...
This is the Brown edition of the KAWS Small lie figure, designed by KAWS x Medicom Toys.

I hope SMALL LIE can transport passengers into another realm", said KAWS. "The inspiration behind SMALL LIE comes from my relationship to wooden toys growing up and the warm sensation of wood grain.  Expanding on this, I created an oversize sculpture that plays with an emotional tension of strength and kindness. It is the first time that one of my pieces is exhibited in an airport…the space allows a dialogue with both travellers and the other artworks showcased at HIA.  It is a perfect space for SMALL LIE."   

The Small Lie by KAWS x Medicom Toys is packed in a plastic blister and sealed in a plastic bag. The Small Lie figure stand 11"tall (28 cm) and is made by Medicom Toys in Japan.

The 11" Small Lie (Brown) by KAWS x Medicom Toys is a limited edition production
Artist: KAWS
Size: 11" - 28 cm
Produced: Limited edition
Released: 2018
Label: Medicom Toys
Medium: Vinyl